ACCOMMODATION
A CALM PLACE
WITHIN
THE WIND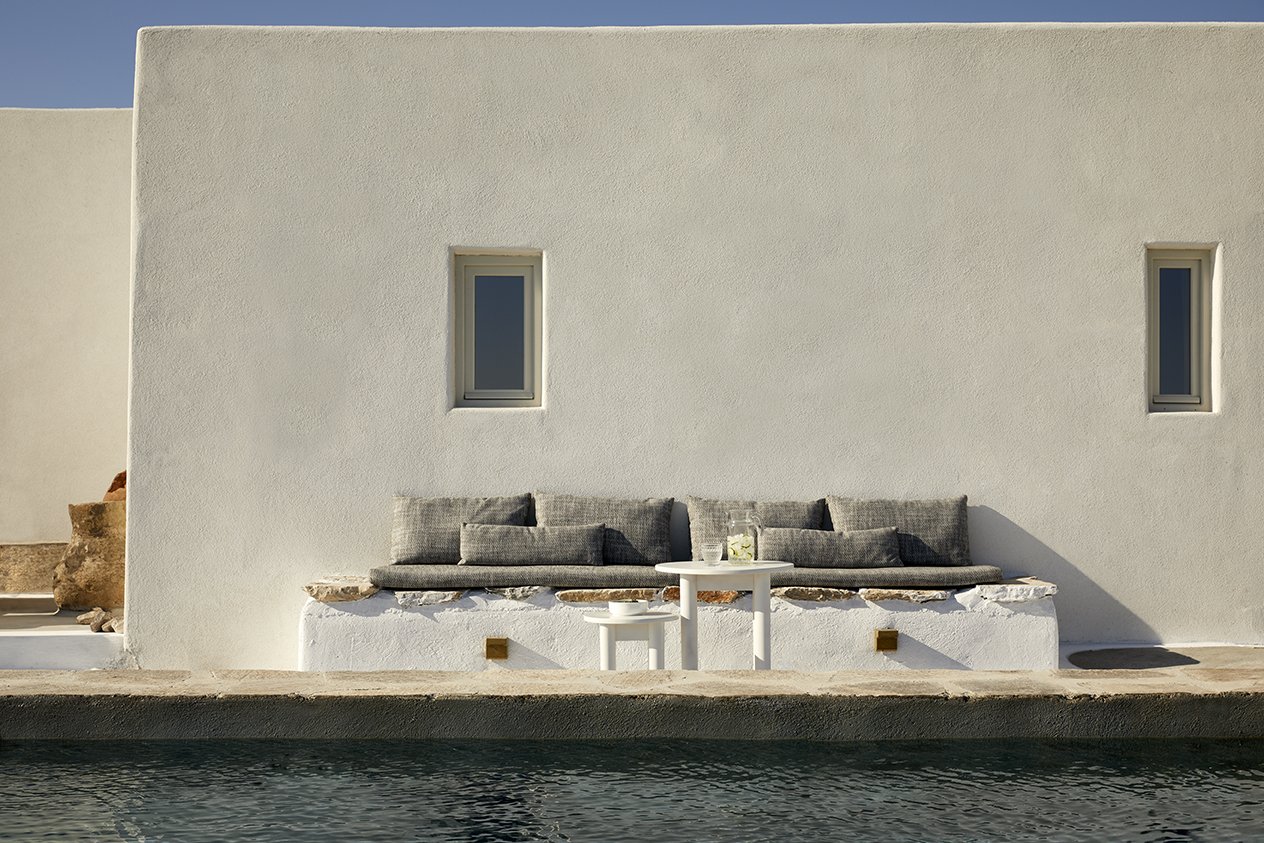 Situated opposite the spectacular and bustling Santorini, Therassia and its natural beauty seem untouched by the passing of time. SANTA IRINI RETREAT offers you tranquility. The sun sets right down the courtyard of the estate and the moonrise will be an unexpected surprise… You will enjoy stunning panoramic views and at the same time immerse yourselves in the simplicity and insouciance of your adolescence.
In "SANTA IRINI RETREAT" you will experience the absolute greek feeling, on an island with a population of just 180 inhabitants, far away and very different from any typical tourist attraction.
House
Santa Irini Retreat guarantees your privacy and can host in total 15 persons. It is a traditional residence developed in 3 separate suites (3 master bedrooms, each with a private lounge), two concept cave rooms, five bathrooms with showers, a traditional kitchen which also serves as a dining room, an interior yard with a view to the caldera and a swimming pool. It is surrounded by a young vineyard. It is designed in the shape of the greek capital letter "Π", in order to protect its residents from the meltemia, the dry north-eastern winds of the Agean and offer them shaded areas all day long. Therefore, visitors can enjoy the spectacular view of the caldera and the surrounding islands of
Ios, Sikinos and Folegandros, protected from the wind and the dazzling Mediterranean sun. Also, from the interior yard of the villa and through the vineyard, an impressive view of the Agia Irini church and its panigirospita stretches in front of their eyes. The suites, one of which is accessible to people with disabilities, are named after 3 women who have been an inspiration to the owners of Santa Irini Retreat: Margarita, Avgi and Theodossia. The location of each of them as well as the experience of their inside space reflect important aspects of these women's lives.
POOL
The swimming pool, also accessible to disabled people, offers a variety of wonderful views: to the East visitors can enjoy the spectacular caldera and the biomorphic shapes of the villages of Oia and Fira hanging from the rocks in Santorini. To the North they can trace the islands of Ios and Sikinos and to the West they can indulge in Folegandros. Words cannot describe the beautiful colors of the sunset or the moonlit volcanic landscape one can enjoy relaxing in the pool of the retreat or tasting a traditional Cycladic meal and exclusive local wines in its kitchen.