Simplicity is the key: The eclectic spot in Thirasia that has become a lifestyle for the summers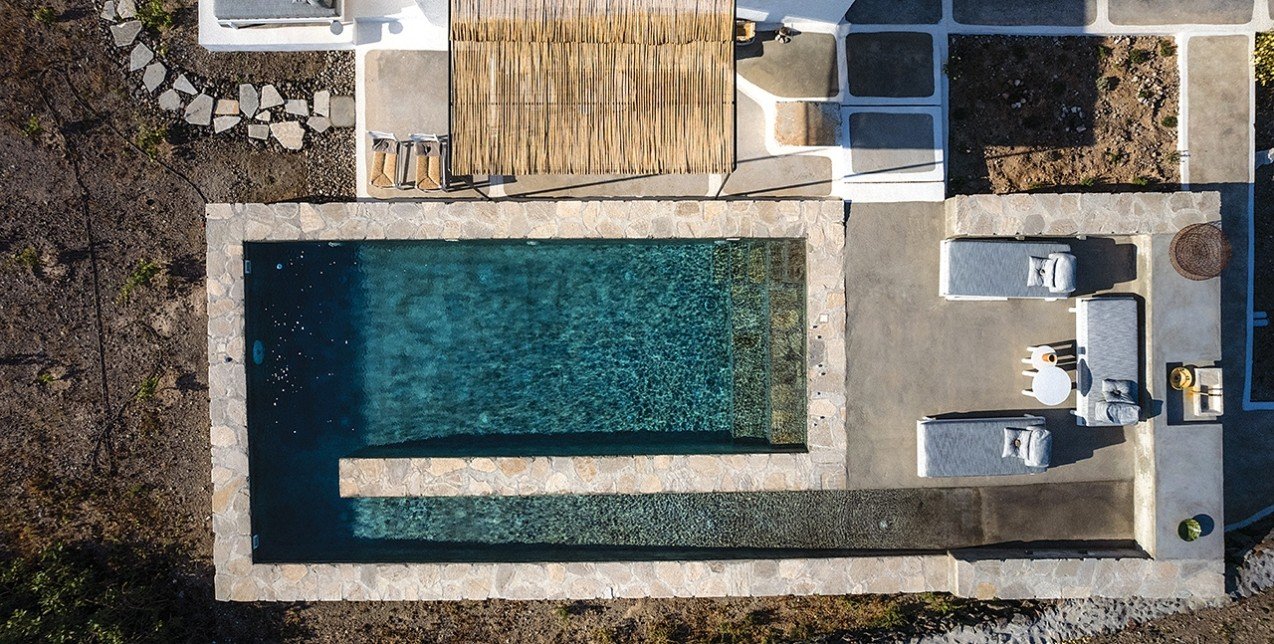 A journey through time, to an untouched place, that remains a secret. Santa Irini Retreat belongs to an island as unique as the guests who choose it, where slow living is the only choice as a way of life.
Opposite from the cosmopolitan and bustling Santorini, Thirasia, on the other side of the Caldera, lives away from the limelight and excessive luxuries, remaining an untouched treasure. An island of 180 inhabitants, with a strong sense of authentic Greece, where every day passes slowly, celebrating the simplicity of life. There, Santa Irini Retreat is the perfect retreat for those who love a low-profile vacation. It was created in this virgin land, where tradition and minimalism meet luxury and elegance, with total respect for the natural environment and the history of the place. From its location, the sun sets right in the courtyard of the estate, while the view of the moonrise is an unexpectedly surprise.
Imagine a trip back in time, at least half a century back, to the Santorini of yesterday.This feeling is enjoyed by every visitor of this dream refuge.You will enjoy the amazing panoramic view that the retreat is lucky enough to enjoy and at the same time you will immerse yourself in simplicity and carelessness, in a place where authentic Greece "awakens" and enchants.You will experience the serenity of this charming island, feel the amazing energy of the Caldera, appreciate the indescribable beauty of nature and taste productions from the private vegetable garden and vineyards.The owners have created for you an adventure, beyond the limits of a typical tourist experience. The accommodation combines comfort and luxury with the authentic feel of a place that has remained the same over the centuries. You will achieve your personal leap too, living authentically, breathing deeply and learning the secrets of the unadulterated paradise of the Cyclades!
Read more here